1889 Stockholm
·
Stockholm
Shiftleader
Fast Fine Restaurant Group är ett internationellt företag som skapar och driver olika restaurangkoncept i Sverige och internationellt. 2020 driver vi 1889 Fast Fine Pizza i Stockholm, V (www.v.restaurant) i Malmö samt i Los Angeles, USA och planerar att fortsätta att expandera de kommande åren. 
Fast Fine grundades för 4 år sedan med ambitionen att ruska om restaurangbranschen, vi vill skapa en gästupplevelse utöver det vanliga, som inte kostar en månadslön för våra gäster. Man skulle kunna säga att vår modell i kombination med användandet av teknik för gästupplevelsen är vad som gör oss så unika och om du frågar oss som jobbar för Fast Fine, tycker vi det är ganska coolt!
"Bold", "Aware" & "Energetic" är våra ledord på Fast Fine Restaurant Group. Med restauranger och team i olika delar av världen har vi fått uppleva och lära oss det bästa av de olika arbetskulturerna och miljöer våra anställda befinner oss i.
Vår restaurang i Stockholm har öppet från lunch till sen kväll, 7 dagar i veckan och består av ett team på ca 20 medlemmar. Vi söker just nu en skiftledare till vårt befintliga ledarteam som består av vår restaurangchef Alexander, och 4 skiftledare.  
Rätt kandidat för rollen som skiftledare kommer att genomgå all nödvändig stationsträning innan denne tränas i skiftledning, träningen uppskattas att ta ca 4-6 veckor beroende på erfarenhet. 
Som skiftledare ska du och ditt team skapa en oförglömlig upplevelse med service i världsklass! Under dina skift arbetar du för att göra våra gäster nöjda, du engagerar våra medarbetare och ser till att vi får ut maximal försäljning. Du kommer coacha och peppa ditt team att nå nya höjder i arbetet och vara en del i vårt dream team! 
Vi erbjuder:
Stora utvecklingsmöjligheter genom nya restauranger
Utbildning på alla stationer och i skiftledning 
Underbara kollegor i ett tight team
Kollektivavtal och marknadsmässig lön
Arbetstider mellan 08:00 - 00.00 måndag - söndag
Du är ansvarsfull och kan agera som en ledare. Du gillar tempot, energin och att den ena dagen inte är den andra lik. Du har ett stort intresse för service, är van att hantera stressade situationer och är en problemlösare.
Vi ser gärna att du tidigare haft en ledarroll i restaurangbranschen och det är meriterande om du tidigare arbetat som arbetsledare/skiftledare. 
Om du tror att du kan vara rätt kandidat för jobbet, skicka din ansökan så återkommer vi så fort vi kan.
Hoppas vi hörs snart!
Alexander Sparv
Restaurangchef 
1889 Fast Fine Pizza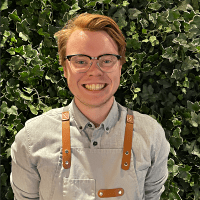 Related jobs
Why work at 1889?
Development opportunities

With us, you will be able to develop and be challenged. We offer you training from your first day all the way until you can run your own 1889 restaurant one day and of course everything in between.

Varied tasks

We believe in working together, so you will learn several parts of the restaurant. This means that your days will not be the same, but you will one day work with the dough and the next day work at the checkout and the third out in the dining room.

Collective agreement

Of course, we have collective agreements with the right terms, salaries, inconvenient working hours and a timely schedule.

Colleagues

Best of all here in 1889 are of course our colleagues. This is what our 89s today value most and we are most looking forward to!
About 1889 Fast Fine Pizza
We opened the first restaurant in MOOD in Stockholm on 7/4 2017. We offer pizza and salad in a different environment by combining fast food and fine dining. We target everyone who wants a really good experience for a little money and in a short time.
Already working at 1889 Fast Fine Pizza?
Let's recruit together and find your next colleague.